IPL (Intense Pulsed Light)
IPL (Intense Pulsed Light) Across Nottingham, Leicester, Derby and Mansfield
Skin Rejuvination and Hair Removal
We now offer 4 IPL Treatments, which include:
IPL for Acne
IPL for Photorejuvenation
IPL for Vascular Lesions
IPL for Unwanted Hair Reduction
IPL Laser treatments focus on:
Skin Rejuvination
Acne
Pigmentation
Photoaging
Redness
Rosacea
What is IPL?
IPL stands for Intense Pulsed Light Treatment, which is a therpy that uses specific wavelengths of light to reduce hair and help with skin.
We use SkinBase IPL – which features a unique cooling cryo-handset. This cryo-handset creates an anaesthetic effect on the skin surface to provide the most comfortable treatment experience.
IPL for Acne
This works by destroying the bacteria on the skin and preventing over-production of sebum. This prevents new spots from appearing, and dramatically reduces inflammation. IPL also stimulates collagen production, helping to reduce the appearance of scarring and improving skin texture. We recommend 3-4 treatments to achieve the best results.
IPL for Photorejuvination
This treatment reduces redness and uneven pigmentation, treats sun damage, age spots and pigmentation, and effectively reduces wrinkles and fine lines. These facials help to make the face skin look smoother, and gives a more even look in appearance.
The treatment works by applying light in a series of pulses over the skin, with the light being penetrated and absorbed by the pigmentation – which then converts this into heat. The damage caused by the heat in the melanin (pigmentation) kick starts the body's natural healing process. The brown patch will darken before it sloughs off, or the body will absorb it.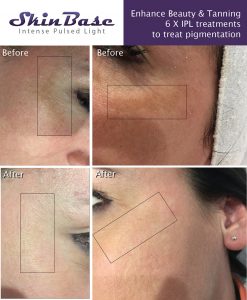 IPL for Vascular Lesions
This process treats thread veins and Rosacea in as little as two or three treatments, and can remove campbell de morgan spots and cherry angiomas.

IPL for Hair Reduction
This treatment is for removing unwanted hair on the body. This lasting solution works by disabling the hair follicle,  giving permanent reduction and providing a quick and painless solution. Results can be seen from one treatment.
8 shots- £100
Example: Half face, hands etc
16 shots – £150
Example: Full face, shoulders, decolletage etc
IPL Vascular and Rejuvenation
Pre-treatment Instructions: 
Avoid sun exposure 3-4 weeks before and after treatment

 

TAN SKIN CANNOT BE TREATED.

  If you use fake tan it must be stopped at least 1 week prior to treatment and thoroughly exfoliated off.  If we treat tanned skin there is a risk of burning, hypopigmentation (white spots), or hyperpigmentation (dark spots) which may not clear for 2-3 months or more. 

 
Ensure the skin is clean, free of deodorants, makeup, moisturisers etc when attending your session. 

 

Let us know on treatment day if you have changed any medication that you are taking.

 
What to expect after treatment: 
Immediately after treatment, you may experience erythema (redness) and oedema (swelling) at the treatment site, which may last 2 hours or longer.  The erythema may last up to 2-3 days. The treated area may feel like sunburn for a few hours after treatment.  

 
After treatment there is a risk of bruising, blistering, crusting, hyper or hypopigmentation, and itching. Usually if these occur, they are temporary and can resolve in a few days or weeks.

 

Immediately following the laser treatment, the treated pigment may appear darker which may last for several weeks.  This darkening will lighten or fall off over the next 1-2 weeks.  

 

Avoid sun exposure

to reduce the chance of hyper or hypopigmentation.  Use sunscreen (SPF 30 or higher) daily throughout the course of treatment. 

 

Leave any skin responses alone, they are temporary and will subside. 

 

Avoid sun bathing, sunbeds, hot baths, saunas, steam rooms, or heavy exercise for 24 hours.

 
What to use after treatment: 
Makeup may be used immediately after the treatment unless there is epidermal blistering.  

 

We recommend only Aloe Vera gel or an ice pack after treatment to cool the skin.

 
Use sunscreen (SPF 30 or higher) daily throughout the course of treatment. 

 

Avoid excessive exercise and heat (saunas, steam rooms, hot showers etc).

 
 As a reminder, if you do not attend your appointment, or cancel/change your appointment with less than 48 hours' notice you will lose that session of your course, or lose your deposit.  Please call the clinic if you have any questions or concerns after treatment.  
---
Shawana an experienced Aesthetician and trainer has direct overwatch and management responsibility for:
All 3D lipo/radio frequency,HIFU, Cavitation
Laser treatments for skin lesions / hair removal / venous lakes / skin tightening
Microdermabrader in/oxygen therapy/chemical peels/acne/milia and blackhead removal/skin tag on walk removal/seborrhoeic warts
Obagi skincare products/3-D skin tech facials
Electrolysis and fungal nail treatments
These aesthetics treatments are part of the park aesthetic's clinic which is managed and supervised by Shawana.