Totally Derma® Collagen Supplement Nottingham, Leicester, Derby and Mansfield
Delivers visible improvements to overall skin, hair, nails, joints, bones, gut health and more.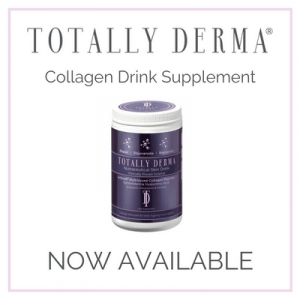 Totally Derma® is a powdered collagen drink supplement taken for collagen, elastin and hyaluronic acid production and repair. It works from the inside, optimising the skin and the entire body and its systems.
Totally Derma® represents a new era in skincare, health and well-being, by tackling the root causes of ageing and delivering a holistic approach to Age Management.
Drinking Totally Derma® daily contributes to skin firmness, elasticity and hydration, longer, stronger hair and nails, more flexible joints, stronger bones, improved gut health and is a key supplement for peri and post-menopausal women.
What is Totally Derma?
Totally Derma is an Anti-Ageing drink that works from the inside, to stimulate the body's optimum production of collagen, elastin and hyaluronic acid. It focuses on both the aesthetic (physical) signs of ageing and the underlying physiological processes.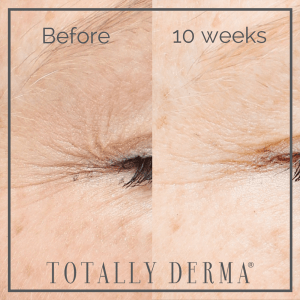 When taken, collagen amino acid peptides are distributed via the blood vessels into the dermis, where they stimulate fibroblast cells and produce more collagen and hyaluronic acid.
Repair, Rejuvenate, Replenish – Perfect for age management, and also helps skin, hair, nails, joints, bones, gut health, and menopause
Easy to Take – Take the supplement daily – you can mix it with water, juice or a smoothie
Free From Allergies – Highest quality and purity available, free of all common allergens and does not contain preservatives or artificial additives
Collagen Supplements At Home
TotallyDerma® is an effective, natural product that can be incorporated into your skincare regime.
Totally Derma® is really easy to take, just one scoop mixed in water before bed every day is all that's needed. With a hint of vanilla, it is pleasant tasting and easy to take.
Consuming it helps to take advantage of the body's own optimal collagen production which happens in the first few hours of sleep.
---
Shawana an experienced Aesthetician and trainer has direct overwatch and management responsibility for:
All 3D lipo/radio frequency,HIFU, Cavitation
Laser treatments for skin lesions / hair removal / venous lakes / skin tightening
Microdermabrader in/oxygen therapy/chemical peels/acne/milia and blackhead removal/skin tag on walk removal/seborrhoeic warts
Obagi skincare products/3-D skin tech facials
Electrolysis and fungal nail treatments
These aesthetics treatments are part of the park aesthetic's clinic which is managed and supervised by Shawana.