Fat Freezing Treatment | 3D Cryolipolysis
3D Cryolipolysis Treatment Across Nottingham, Leicester, Derby and Mansfield
3D Cryolipolysis
What is "Cryolipolysis"?
This non-invasive, fat freezing procedure sculpts and contours your body to suit your ideal image by using cold temperatures. This treatment freezes the fat cells exclusively, and as a result, the rest of your body cells (e.g. skin calls) remain completely undamaged and healthy.
Cryolipolysis is the amazing fat-freezing treatment, most suitable for reducing the stubborn pockets of fat, usually found in the following areas: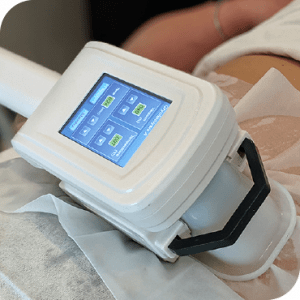 Stomach
Waist
Love handles
Hips
Back
Upper arms
Double chin (Cryo-chin Freeze)
Chest (males only)
Inner and Outer thighs
These results were visible after combining 2 sessions of the cryolipolysis/fat freezing treatment with 6 sessions of the 3D cavitation treatment.
How long does the appointment last?
Each session lasts around 45-60 minutes per area, though this is depending on the area that is treated.
Are there any risks with this treatment?
Like all treatments, there can be some risks. The most common side effects include redness and minor bruising, although this should subside after a few days (with a maximum of ten days.) The specialist will discuss these side effects with you during your consultation.
However, more than 99% of all clients have shown their satisfaction with
results and have not experienced any pain or severe side effects post-treatment.
Will there be any downtime or restrictions post-treatment?
This treatment is completely non surgical and pain-free and as a result, no recovery time is needed and you are still able to partake in your daily routine as usual with no aches or restrictions.
How quickly can I expect to see the results and how long will they last?
The results are on average most visible after 2 – 6 months post-treatment. However, they vary from person to person based on certain factors, for example, lifestyle and medical history. We have seen an average of 20% fat reduction is seen with this treatment and maximum results have been visible when following our post-treatment advice including staying active and following a healthy diet.
This treatment can often be combined with our other amazing 3D-Lipo treatments to give best results, for example, the cavitation treatment or radio frequency for skin tightening.
Price Match 
We can guarantee the lowest fees for all our beauty services
To book a consultation, please call us on 01158967878.
A consultation fee of £30 will be charge to secure your booking, but will be deducted off any treatments purchased.
---
Shawana an experienced Aesthetician and trainer has direct overwatch and management responsibility for:
All 3D lipo/radio frequency,HIFU, Cavitation
Laser treatments for skin lesions / hair removal / venous lakes / skin tightening
Microdermabrader in/oxygen therapy/chemical peels/acne/milia and blackhead removal/skin tag on walk removal/seborrhoeic warts
Obagi skincare products/3-D skin tech facials
Electrolysis and fungal nail treatments
These aesthetics treatments are part of the park aesthetic's clinic which is managed and supervised by Shawana.