3D-Lipo and Non-Surgical Weight Loss Clinic
3D-Lipo and Non-Surgical Weight Loss Clinic Serving Nottingham, Leicester, Derby and Mansfield
A fantastic non-invasive, non-surgical alternative to slimming and skin tightening!
3D-Lipo is a revolutionary non-surgical treatment for fat reduction, body contouring, cellulite reduction and RF skin tightening for both the face and body in Park Private Clinic, Nottingham. Our ultimate combination of advanced technologies offer a complete and prescriptive approach for a body transformation.
We also have fantastic results for our non-surgical facial which can take years off without the need for botox and filler!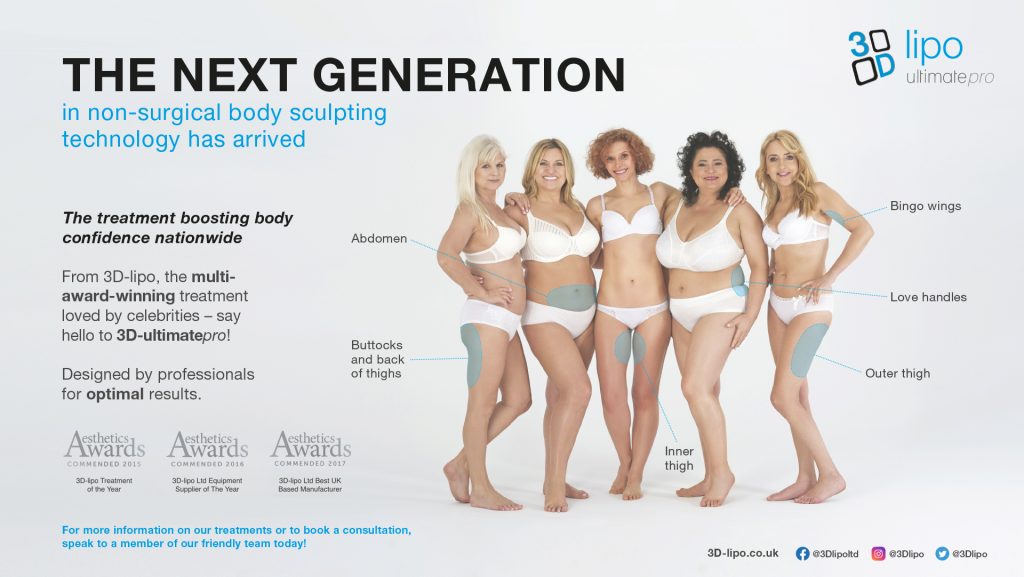 Bespoke Treatments from just £80
Results can be seen from the first session, for best results, a course of treatments is recommended.
Bespoke treatment, specific to your individual needs.
Unlike other single-level Lipo treatments (that use a low level Diode Laser), 3D-Lipo uses a combination of treatments which focus on cellulite reduction, fat reduction and skin tightening. Often with other weight loss methods, you may be left with loose skin and cellulite. 3D-Lipo eliminates this problem.
At your consultation, we will carry out an assessment to identify your problem areas and prescribe a unique treatment plan.
How long does 3D Lipo last? Results can be permanent as long you maintain a healthy lifestyle!
Absolutely NO down time: you can resume your daily routine after treatments.
No anaesthetics needed
At Park Laser & Aesthetics Clinic, we are using the more advanced 3D-Lipo machine: 3D-Ultimate
The amazing results of 3D-Lipo have made national headlines. Many celebrities are raving about these treatments!
1
For our full price list please visit our 3D-Lipo Prices page.
Price Match 
We can guarantee the lowest fees for all our beauty services
3D-Lipo Fat Removal Treatments:
3D-Cavitation
Best for overall fat reduction and inch loss
This is a scientifically proven, non-invasive ultrasound technology to break down unwanted fat. An average of 2 to 4cm reduction can be seen after one treatment, with results improving each time. Cavitation works best for treating larger areas, for example the abdomen and thighs.
How it works?
The 3D-Lipo machine delivers a low frequency ultrasound and produces a strong wave of pressure to fat cell membranes. This causes them to disintegrate and release their content (which is primarily comprised of triglycerides), without harming surrounding tissues. The fat is then naturally removed from your body by your liver by it's normal processes.
How many treatments?
Usually, a course of 6-12 treatments are recommended however we will advise you during your initial consultation.
What is the treatment like?
A handheld device delivers the ultrasound energy whilst gently gliding over the marked area. The majority of clients consistently report a painless and comfortable experience.
2
3D-Cryofreeze
The Fat Freeze treatment best for stubborn areas & body sculpting
New Duo-cryolipolysis: two areas can be treated simultaneously!
Unique and non-invasive. It uses a combination of Cryolipolysis and Electro Therapy. It works best for targeting those  stubborn areas that just won't shift, like the inner thighs, lower abdomen, 'saddle bags' and even the chin. Cryo is a fantastic treatment which can be combined with Cavitation, Radio Frequency and others. During your initial consultation, we will prescribe a unique treatment plan.
Cryolipolysis can even be used on stretchmarks and post-baby tummies and improve the look of scarring after caesareans. (Treatment can only be given 6 months after surgery).
How it works?
This treatment is also know as 'Fat Freezing' because it lowers to temperautre to -6oC, targeting the fat cells causing them to crystallise. The surrounding tissues are unaffected. Over several months, the remaining content of the fat cells are cleaned away by your body's lymphatic system.
How many treatments?
One treatment is required per area. On average, you'll see up to a 40%  reduction of the fat of the area treated. This treatment can then be combined with the other technologies to enhance results, for example if you also have loose skin in the area as well, radio frequency can be used to both remove the fat and tone the skin.
What is the treatment like? 
An anti-freeze pad is placed onto the area to protect your skin. During treatment, the fat is drawn into a suction cup. You'll feel a slight pulling sensation and the area will be cold. Within a few minutes, the area should go numb. After treatment, avoid any heat on the treated area until your skin has normalised.
HIFU Body
Best for pockets of stubborn fat, body sculpting and targeted fat removal
Latest technology used to target specific focused areas of fat in the fastest possible treatment time, recommended for areas such as abdomen, flanks, hips, thighs and buttocks.
How it works?
The HIFU handpiece delivers focused ultrasound waves to an accurate depth to cause Necrosis of the fat cell. The controlled movement of the handpiece results in a grid of treated fat cells. The high frequency of the ultrasound wave, results in rapid heating of the focal zone at 1.3cm and 8mm under the skin whilst leaving the skin's surface unaffected. The treatment exposes the fat cells to these high temperatures for 1 second, causing them to be destroyed. The damaged cells are removed naturally through the lymphatic system, this continues for up to 3 months.
How many treatments? 
One treatment is required per area.
What is the treatment like? 
The handpiece is placed onto the area of your skin and is held there for approximately 2 minutes. This will be repeated 3 times per treatment area. During the treatment you may feel warmth, it may get slightly hot and uncomfortable. You may also feel a slight vibration although this is completely normal.
Avoid any heat on treated area for 48 hours.
Avoid strenuous exercise, saunas, steam and jacuzzis.
Cannot be used if you have less than 1cm of subcutaneous fat in treatment area.
A favourite with celebs:
3D-Lipo Skin Tightening Treatments:
3D-Radio Frequency for Face
Best for anti-ageing, skin tightening and smoothing fine lines and wrinkles
Used for skin tightening on the body and face. Can even be used on the eye and brow area, upper lip and around the nose!
How it works:
High radio frequencies penetrates the skin layers to selectively heat the skin tissue and the extra cellular matrix where the collagen fibres are rooted. The local heating of the area being treated causes an instant tightening of the collagen fibres, and at the same time increases production of new collagen and elastin fibres to create a smoother, healthier and younger looking skin.
How many treatments? 
Although you can see results as soon as after your first treatment, a course of treatments is advised to achieve maximum results. This is usually 6 – 8 treatments, one treatment per week for 6-8 weeks.
What is the treatment like?
 3D-RF Skin Tightening is a relaxing treatment. Product will be applied to the skin, this acts as a conductor for the energy. A small, round handpiece will be positioned onto the skin and moved in gentle circular motions. A small beeping noise will come from the machine, the handpiece will get warmer until it reaches 40 degrees. Once the temperature has built up our therapist will continue the treatment on your skin for 2-4 minutes, before moving onto the next area.
Please note, this cannot be used on scarred areas, fragile skin, or recently after skin peels or hair removal.
3D-HIFU Face – Non-Surgical Face Tightening
Best for facial lifting and tightening
Fantastic non-invasive, non-surgical treatment for facial lifting. Suitable for all Fitzpatrick skin types I-VI. One of the most sought after treatments that uses the latest technology to excel in this area for just one single session. There is also no associated down time. Can be used for brow lifting, jowl line lifting, nasolabial fold reduction and periorbital wrinkle reduction.
A consultation and patch test is always essential prior to treatment.
How it works?
The highly focused energy creates thermal coagulation zones at 3 different selected depths. A wound healing response creates new collagen which provides a longer term tightening of the skin.
How many treatments? 
One single treatment every 18 months.
What is the treatment like? 
During the treatment, the 3D-HIFU face handpiece is placed onto the skin and held in one area at a time. You will experience a slight vibration and warmth whilst the energy is being penetrated. This treatment may feel slightly uncomfortable around the jaw line but generally this treatment is pain free.
3D-HIFU is a standalone treatment.
3D-Lipo Cellulite Reduction Treatments:
3D-Shockwave Therapy
Best for stubborn pockets of fat and cellulite, standalone treatment for with cryolipolysis
Many areas of the body can be improved including the outer and inner thighs, knees, arms, hips, stomach and buttocks. 90% of women who took part in a clinical study would recommend this treatment.We can tailor an individual shockwave treatment plan to meet your desired goal. Results are seen as quickly as 2 weeks after starting the course.
How it works:
It stimulates the fat breakdown, collagen synthesis and lymphatic drainage by increasing metabolic function and increasing cellular membrane permeability in the areas treated. Free fatty acids and glycerol are released and removed by the increased blood supply and lymphatic movement. The sound waves also stimulate the connective tissue and septa mobility, giving the skin a firmer tone and reducing the dimples within the skin.
How many treatments?
Typically, a course of 8-10 individual 30 minute sessions. Or it can be used straight after cryolipolysis treatment (for 3 minutes).
What is the treatment like?
The treatment is quite noisy, making a loud knocking sound. However the treatment is comfortable and feels similar to a tapotement massage.
If you exercise and increase your water intake, you may see even better results.
3D-Body Radio Frequency
Standalone treatment or can be used with 3D-Cavitation
Best for skin tightening, smoothing of fine lines and wrinkles, reducing the appearance of cellulite. Works great on areas with loose skin and cellulite. Common areas include 'bingo wings', lower abdomen, and back of thighs.
How it works
3D-Body RF technology is a fantastic treatment for both skin tightening and cellulite reduction. The RF energy selectively increases the temperature of the fat cells in deep and superficial layers of fat. This increases metabolism and release of liquid fat from fat cells. Normal cells can support 60 degrees but fat cells start to be melted at 41 degrees. After treatment, the fat cells shrink and the skin is restored closer to its original form. Cellulite is reduced or the appearance eliminated completely.
How many treatments?
Results can be seen as soon as after your first treatment. As results improve with each treatment, a course of 8-10 individual 45 minute sessions is recommended.
What is the treatment like? Relaxing treatment. An ultrasound gel is placed onto the skin, this acts as a conductor for the 3D-Body RF energy. The handpiece is moved in circular motions, it will get warmer until it reaches 40 degrees. This heat is maintained on the area for 2-4 minutes before moving onto the next area.
This treatment can be combined with 3D-Cavitation. This devises a treatment course to target fat removal, cellulite, and skin tightening for an all-round package.
2
Boost your 3D-Lipo results with these enhancing treatments:
3D-Lipo PPC Active Cream
To progress and enhance the results of your treatments, apply the PPC advanced solution (derived from soybean) for continued reduction or cellulite and excessive fat. Uses a unique rollerball massage applicator. We advise you combine the use of this product with professional treatment and a healthy lifestyle. This will help to maximise results, which will become visible 2-3 weeks later.
How it works:
The micronized active ingredient is penetrated into the skin and acts in the subcutaneous fat. It generates heat under the skin which increases local metabolism. It also increases excretion (sweating) and blood flow. The PPC cream and ampoules contain capsicum (chilli) which help increase the temperature. These consecutive actions help regulate the fat cells by creating a 'melting' effect and a cell stimulating effect.
Benefits:
Supports Lipolysis by decreasing fat cell size
Smooths unsightly cellulite
Enhances skin tone
Increases the skin's elasticity
Lab-tested with no side effects
What does it feel like?
After application, the temperature of the fat cells increase by 1-2 degrees. Within 5-10 minutes, you will begin to feel a sensation, this should last for approximately 30 minutes.
Treatment summary and possible side effects:
What else do I need to avoid after treatment?
Alcohol for 24 hours
Heavy meals and caffeine for 2 hours
Exercising and drinking plenty of water will help to optimise the results.
It's also best to cut down your alcohol and caffeine intake during the course of treatments.
The specialist will also be able to give you any details about dieting.
To book a consultation, please call us on 01158967878.
A consultation fee of £30 will be charged to secure your booking, but will be deducted off any treatments purchased.
1Video taken from: 3D- lipo Ltd Youtube, published on Feb 24, 2016
2Videos taken from: Beauty Unique Clinic Youtube, published May 14 2016
---
Shawana an experienced Aesthetician and trainer has direct overwatch and management responsibility for:
All 3D lipo/radio frequency,HIFU, Cavitation
Laser treatments for skin lesions / hair removal / venous lakes / skin tightening
Microdermabrader in/oxygen therapy/chemical peels/acne/milia and blackhead removal/skin tag on walk removal/seborrhoeic warts
Obagi skincare products/3-D skin tech facials
Electrolysis and fungal nail treatments
These aesthetics treatments are part of the park aesthetic's clinic which is managed and supervised by Shawana.